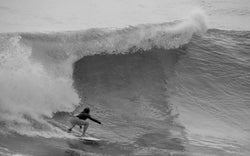 Are you afraid of getting held down in a wipe-out?
Does that stop you from taking bigger waves and better rides? 
In this course, freediving instructors who are experienced surfers themselves teach you how to improve your breath hold and recover quickly in between consecutive oncoming waves, increasing your confidence to surf bigger and better. The course runs over 3 hours, with theory and pool practical sessions. The topics covered include:
Physiology of the breath-hold in relaxed and stressed states

Techniques to improve your breath in a controlled environment and in uncomfortable situations

Learning to relax for optimum performance

Recovery breathing - how to recover efficiently between waves

Further training to increase your breath hold 
The course will be held at CCAB Swimming Complex at 21 Evans Road.
The cost is $120, including equipment use.