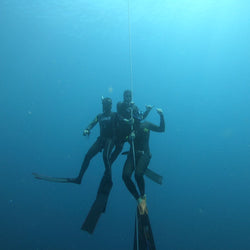 Introduction to Freediving | Molchanovs Wave 1
Probably the most rewarding and challenging course which covers the core fundamentals of freediving, following the Molchanovs Wave 1 syllabus.
A great starting point for people who are already very comfortable in the water. For example, you may consider taking this course if you are an experienced snorkeler, scuba diver or swimmer.

The course will begin with independent study online, followed by a theory session with an instructor, covering these topics: 
Freediving physiology
The physics of freediving
Equipment
Different freediving disciplines
Safety 
From there we will move to a pool session where you will learn breathing and equalisation exercises, as well as practise static and dynamic disciplines. 
On the second day of the course, we will travel to Lazarus Island to practise depth and equalization. On the successful completion of the course, you will receive your Molchanovs Wave 1 freediver certification.

The cost is $550 per person for a group lesson, This includes the cost of transportation to and from Lazarus Island and the use of equipment.
If you would like to learn how to freedive in clear blue waters, we are doing a freediving trip to Bali from 4-7 Nov 2023!
Prerequisite: Swim 200m unassisted (but breathing), non-stop in a pool setting
Passing requirements*:
Pool requirements (for Wave 1 & Lap 1)
1 min 30 sec static
30m DYNB
Buddying and rescue
Open Water requirements (for Wave 1)
CWTB & FIM 12-20m
CWTB Buddying 6-10m
Rescue from 6-10m
*done comfortably and with good technique
We also offer private courses if you prefer 1-1 guidance.