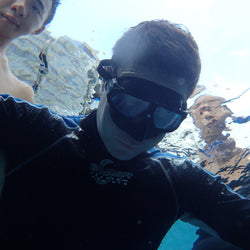 Discover Freediving (Pool)
Ever dreamt of swimming with wild dolphins and whales?
The first step to realising this dream is to learn to freedive!
During this course, you will learn and put into practice the basic techniques freedivers use to increase the time they can stay underwater.
The course consists of a 1-hour online classroom session, followed by 2 hours in the pool. 

The cost is $98 and includes the use of equipment. If you enjoy the course and want to take your understanding and appreciation of freediving further, sign up for one of our full freediving courses (Molchanovs Lap or Wave 1) and receive $10 credit towards the course.
Private courses are also available if you prefer 1-1 coaching, do contact us for more information. 
*The $10 credit must be used within 3 months from the Discover Freediving Course date.