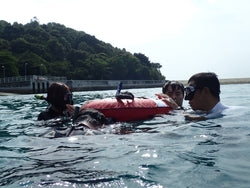 Molchanovs Lap 2 to Wave 2 Instructor Upgrade
This course is for Molchanovs Lap 2 Instructors (or equivalent from other agencies) who want to be able to teach Wave courses. 
This course will be conducted overseas (location TBC) and additional trip expenses may apply. 
The physical requirements to pass the Wave 2 Instructor course are as follows:
40m CWTB & FIM

30m CNF

25m rescue + 50m suface tow

15m Stand-by rescue (minimum 60s)
CO2 Dive*
*While weighted for neutral buoyancy at 10m, perform vertical finning for 60s with elbows above the surface, followed by a 20m CWT/CWTB dive.
After completing this course, you will be able to teach Molchanovs Wave 1 and Wave 2 courses, and have the opportunity to join the Zen Freediving team!