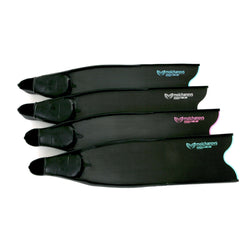 Molchanovs Carbon Bifins with Imersion Foot Pockets
Only 1 of each size left! 
The Molchanovs carbon fibre fin blades are 100% carbon fibre, handmade using vacuum infusion - a more expensive and time-consuming process but one that produces a higher carbon fibre-to-resin ratio in a thinner, lighter and more responsive blade. This result is a blade with amazing feel yet is powerful enough to set multiple world records. 
They come in three different stiffness levels in a variety of colors and are paired here with tried and true Imersion™ foot pockets.
These light blades give a wonderful, responsive thrust when finning due to its unique 'shark skin' textured underside. The rough underside creates microturbulence in the water that flows faster and lowers the pressure of the water around the underside of the fin. This eases the back kick while finning, allowing for a smoother, less strenuous kick cycle.
Care instructions: rinse your fins under fresh water after pool or saltwater sessions to prevent a buildup of chlorine or salt crystals.