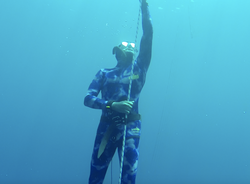 Intermediate Depth Freediving Course | Molchanovs Wave 2 Depth Component in Bali
This upgrade is for students who have already completed the Molchanovs Lap 2 certification previously, and want to complete the depth requirements to obtain the Molchanovs Wave 2 certification. 
Throughout the depth training sessions in this course, we work on adapting your body to handle the increasing pressure with depth. You will learn to refine your technique in all the depth disciplines and equalisation, and apply the mindfulness techniques you have learnt to your diving. You will learn to prevent diving injuries and be a skilled safety for other freedivers. 
Molchanovs Wave 1 (or other certification with a crossover evaluation) is a prerequisite for this course. In addition to that, we recommend that you have some experience with pool and depth training before enrolling for this course. 
Target performances for depth disciplines:
CWTB & FIM 24-30m
CNF 15m
CWTB buddying 10-15m
Rescue from 15m
On the successful completion of the course, you will receive a Molchanovs Wave 2 certification. 
This course will be conducted in Bali.